ABOUT THE SOLOMONS



Aharon Solomons and his wife MT (Short for Maria-Teresa) are both qualified as instructors by world free-diving record-holders Umberto Pelizzari and Francisco "Pipin" Ferreras and have successfully trained various freedivers across the world in such places such as England, Israel, Holland and Mexico amongst others. Recently, they decided to make Baja their home, and their base training ground, giving them a perfect recipe by combining the internationally renown experience with the beauty and peaceful surrounding that Baja offers, giving their students various options on learning and training that best suits their desire.

Aharon and MT teach free-diving the Umberto Pelizzari way, whether a student wants to discover the magnetism of Free diving for the first time and personally experience why free-diving is currently becoming one of the fastest growing water sports, or if an advanced competitor wants to fine tune his skills or increase his personal performance. Strong emphasis is placed upon the mind and body working together in harmony, and developing a sensitivity about one's body and the messages that it is giving. This allows each student to discover his own ability and comfort zone, which is the main target of the exercises, letting the maximum personal depths develop as a natural and secondary goal.

Both Aharon and MT are capable of a constant- weight free-dive to more than 58 meters. Having various proven competitive training successes, they are currently responsible for selecting and training the next Mexican Free diving team.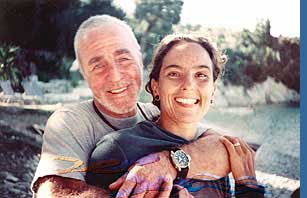 © All Rights Reserved Desea Adventures S.A De C.V. 2006